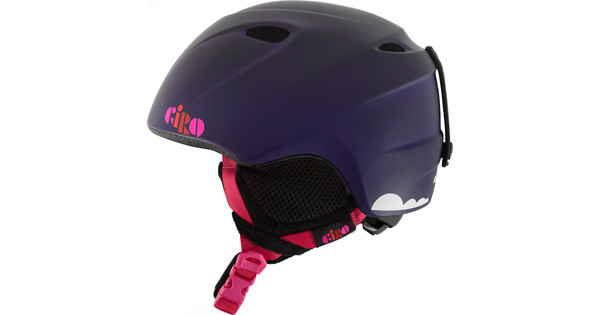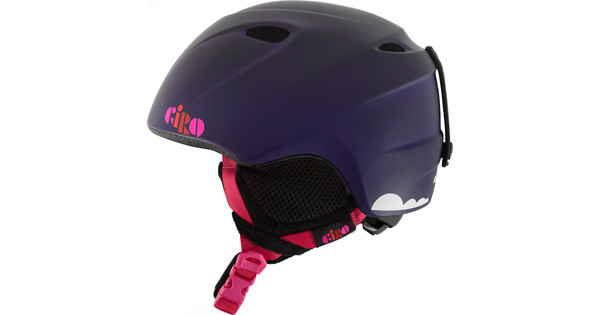 Select your color/size to see the stock per store
Description
Description Giro Slingshot 2017
Allround helm voor kinderen
De Giro Slingshot is een lichtgewicht helm voor kinderen. De helm is uitgebreid geventileerd en ook de ear pads zijn uitneembaar voor de allerwarmste dagen. De pasvorm is helemaal bij te stellen en om te beginnen al erg universeel. Maar het belangrijkste bij deze helm is het lichte gewicht. Door de In-Mold constructie voelt het alsof je niks op je hoofd hebt. Ultieme vrijheid, maar dan wel veilig.
Properties
Audio Compatible:

No

Brand:

Giro

Detachable ear flaps:

No

Helmet Visor:

No

Helmet closure:

Clip

Helmet ventilation:

Adjustable

Impact protection:

Yes

Pasvorm_Helm:

Round

Recco:

No

Removable lining:

No

Size adjustment:

Rotary knob

Storage cover:

No

Type of outer shell:

In-Mold

Gender:

Children

Color:

Paars

Collection:

2016-2017

Season:

Winter

Audio
Technical specifications
In-Mold constructie
In Form Fit systeem

Quality mark
ASTM 2040
CE 1077B
Verstelbaar
Type of outer shell
In-Mold
Type of adjustment
Draaiknop
Oorflappen afneembaar
Reviews
Reviews
---
No reviews found. Be the first to share your insights.
Properties
Audio Compatible:

No

Brand:

Giro

Detachable ear flaps:

No

Helmet Visor:

No

Helmet closure:

Clip

Helmet ventilation:

Adjustable

Impact protection:

Yes

Pasvorm_Helm:

Round

Recco:

No

Removable lining:

No

Size adjustment:

Rotary knob

Storage cover:

No

Type of outer shell:

In-Mold

Gender:

Children

Color:

Paars

Collection:

2016-2017

Season:

Winter

Audio
Technical specifications
In-Mold constructie
In Form Fit systeem

Quality mark
ASTM 2040
CE 1077B
Verstelbaar
Type of outer shell
In-Mold
Type of adjustment
Draaiknop
Oorflappen afneembaar